PV-Entry
Efficient Data Entry
PV-Entry is a web based application designed to revolutionize pharmacovigilance case management. The interface has been optimized to meet the specific needs of those users engaged in receiving reports, entering data, and handling case follow-ups. Many functions have been developed in response to actual customer feedback to promote efficiency and improve the end user experience.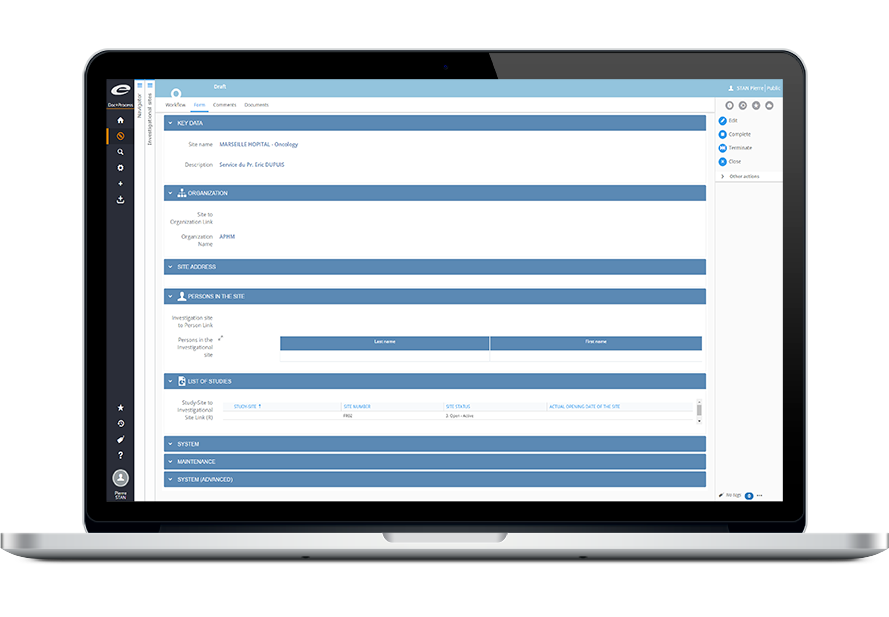 General Software Description
Traditional PV systems have been focused on the needs of the data reviewers and users responsible for trending and analysis. PV-Entry is designed to work alongside PV-Works to maximise efficiency for those users responsible for handling large volumes of cases in high pressure call centre environments.
Benefits of PV-Entry solution
Industry led development – functionality developed to meet the specific needs of real system users
Promote efficiency – ensure accurate capture of regulatory important safety data by promoting efficiency and ease of use
Advanced technology – utilise novel technology to enhance user experience
Integrated solution – works seamlessly with PV-Works using consistent terminology and vocabulary
Rapid deployment – pure web solution for lightweight rapid deployment
Key features include
Powerful and high performance home screen case grid supports querying, sorting, filtering, and grouping
Search engine style querying using standard operators allows users to locate existing cases for follow-up with any available data fragments
Flexible case screens support different layouts for different cases types and user experience levels
Data sections can be customized to match typical call 'flow'
Data fields can be modified with custom colour coding, description text, and present company specific help text
All vocabulary lists feature efficient searching functionality
Product, dose, batch hierarchy supported to meet the complex requirements of the standard PV data model
Novel selection matrices to allow rapid entry of multi-dimensional data values such as time to onset information and product assessment
Contact data entry is optimized to automatically recognise previous callers and allow auto-fill of information
Clinical sign coding is optimized to support rapid selection of codes from previous reporting history for case products and allow batch update of sign qualifier data
Configurable palette of commonly used text and data combinations to allow rapid entry of regularly used data
Speech to text functionality to support narrative and free text dictation
Flexible case bookmarking
Social style case tagging to support efficient case management and team integration
All of the critical compliance features like 21 CFR Part 11 audit trail and security functionality
Technical
Available as cloud based solution
Full web deployment compatible with all standard browsers
Utilises Oracle database on Windows / UNIX / Linux servers
Agile development methodology
Customers Love
Configurable interface: Data entry interface configured to reflect call flow, case type, and user experience level
Fresh web design: Modern and intuitive layout
Commonly used data palette: Speed up entry with drag-and-drop tool for regularly used data
Speech-to-text: Rapidly dictate long case narratives or other text to reduce time-consuming re-typing
Rapid deployment: Engage new or even temporary staff with reduced training overhead
Customer support: Experienced and knowledgeable support team on-hand to help you get the best out of your implementation and configuration
Core-capabilities
Lightweight case capture
Promotes efficiency and ease of use
Focused on call centre users needs
Seamlessly integrates with PV-Works and other PV modules
Pure web deployment
Search engine style case querying
Configurable data section and field layouts
Searchable vocabulary lists
Rapid coding tool
Commonly used data palette
Speech-to-text
Social case management tools
Regulatory compliance